Aries: Tarot: The moon
Keep your cool this week, Aries. Rather, you will be emotionally vulnerable and confused. You may end up in arguments because of this. Instead of inflaming yourself, set healthy boundaries. Look at the bigger picture and leave out the things that won't matter in the long run. Pay close attention to your intuition and your dreams.
Taurus: Tarot: eight of wands
Things are going to move fast and fast for you this week. There will be a lot of communication and travel is also on the agenda for some Taurus. You may have to deal with your past, such as ex-lovers or other circumstances. The decisions you make at this time should be based on your comfort. The question you need to ask yourself is, "Does this make me happy and safe?" At work, it's time for you to team up with other people on projects.
Gemini: tarot card: ace of swords
You will have a lot of mental clarity and epiphanies this week. There will be an urge to speak your mind and that is exactly what you need to do. Don't hide your shine. It's a week to plan your finances so that you can make a big purchase in the future. At work, it will be a busy time. There is a lot of hard work and push needed in this area. Some Gemini can look forward to new job opportunities and new projects.
Cancer: tarot card: five of swords
Your temper could be a major obstacle this week. Be diplomatic when telling the truth. You can become bossy, stubborn and bossy. Take the time to guide others. Your advice will help those who ask for help. Even if there are changes in the original plan, everything will go well. Practice mindfulness and patience.
Leo: tarot card: king of cups
You may have an exciting new start in your personal and social life. Your friends will be very present during this period. This will be a period of emotional content for you. You will be understanding, calm and nurturing. Excellent time for a break or vacation near a waterfront. Important decisions and discussions can be put on hold right now. Pay attention to your spending habits.
Virgo: tarot card: Ace of Pentacles
This week, work and finances will be very important to you, dear Virgo. This is a good time to plan long-term investments. Your experience will help you get a new job/project or a new career opportunity. Those in the service sector will do well. It's also an exciting phase for those in long-term relationships. Singles might meet someone new and attractive.
Libra: tarot card: King of Pentacles
Your work and your career will take center stage this week, dear Libra. People will approach you for ideas and advice. The spotlight will be on you, don't be afraid to shine in the workplace. You will feel confident, stable and abundant. Financial prosperity awaits you. Something financially significant could peak in May of next year.
Scorpio: tarot card: knight of wands
Keep all your fears aside! This is the week to reach your goals full steam ahead. You will be full of energy, interesting ideas and the will to execute. Be confident in your decisions and skills. Don't let the past influence you. You will have lots of support from your family, friends and colleagues during this time.
Sagittarius: tarot card: Queen of Pentacles
Dear Saggis, you will take on several roles and responsibilities this week. Through it all, you will remain calm, steady, and collected. You will have a lot of support from your loved ones. Your energy is well grounded during this time. You will relinquish control and trust the process. Finances must figure strongly at this time.
Capricorn: Tarot: The Hierophant
You will have high goals and expectations of yourself this week. Finances will play an important role. However, don't dwell too much on these things and spend some time with your home and family. Practice mindfulness to help you find the right balance. You must respect the rules of the game during this period. Now is not the time to take unnecessary risks, especially when it comes to your finances.
Aquarius: tarot card: nine of chopsticks
Tiredness and tiredness can catch up with you this week. Pay special attention to your mental and physical health. Now is a good time to start a new regimen to support your overall well-being. You will have the opportunity to shine, especially at work. Don't let your pride get in the way. Your finances will improve. Some Aquarians might be offered a new project or position.
Pisces: tarot card: eight of cups
It's a week to shine at work. It is important to work as a team, to give and receive help from those around you. Gratitude will be strongly present during this period. Avoid making important decisions during this time. Your personal life can be a bit difficult. Leave unnecessary things behind, you soon have new beginnings!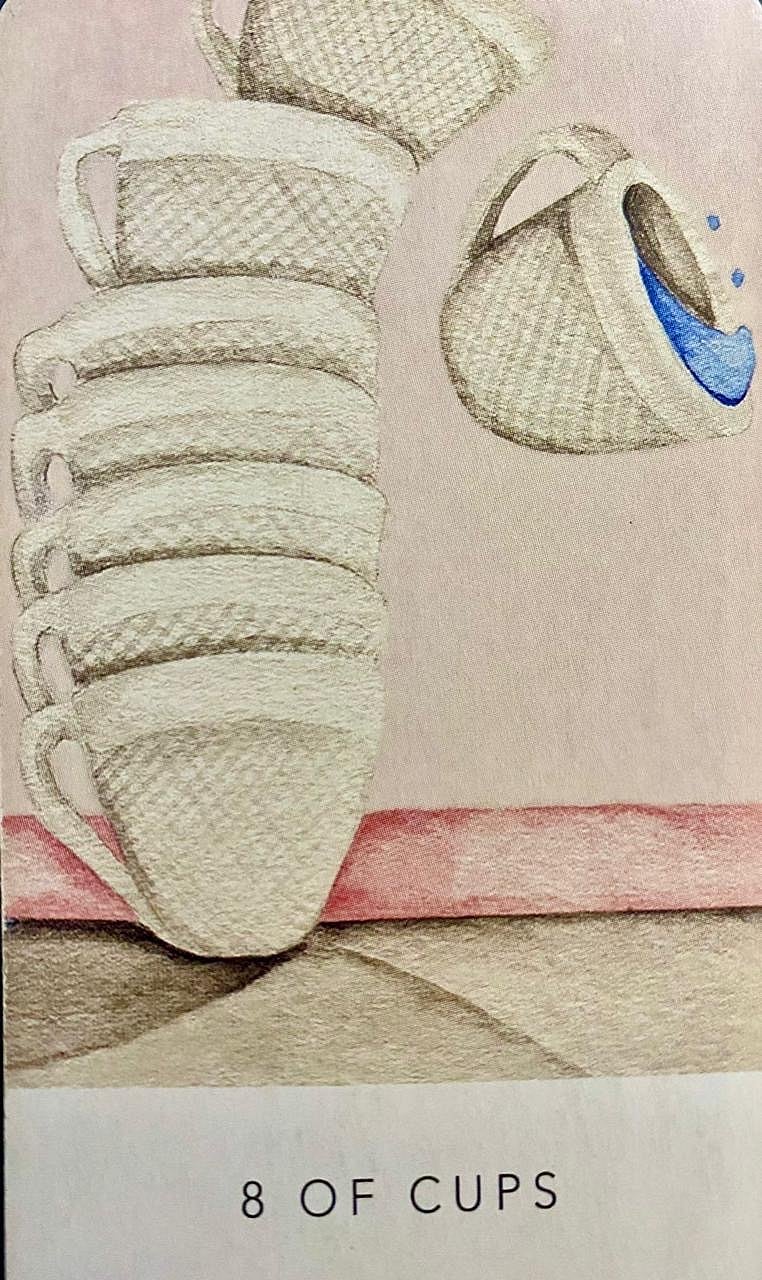 White Sage Tarot Deck